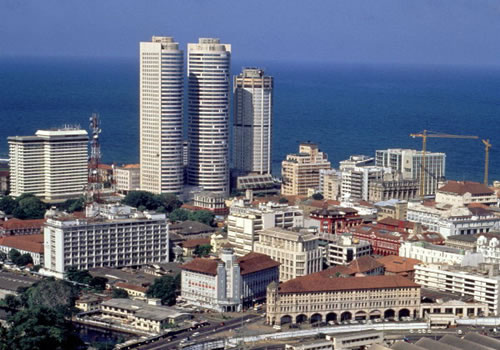 Colombo posses a natural harbour and has been a port of call for more than 2,000 years. It was often the landing point for many traders and since then has remained a major financial and business city for Sri Lanka. This capital city is a rich source of entertainment in all forms, dining, shopping and site seeing.
With its glorious past and hopeful future, Colombo brings forward an exotic cocktail of elements that are hard to resist. Find remnants of its glorious past in pockets around the city, healthy doses of greenery, bargain deals be it for hotels, shopping or dining and nightlife that rouse the senses.
Colombo shopping is definitely a worthwhile effort, buyers can pick from a few of her shopping malls like Crescat Boulevard, Majestic City, Odel and Liberty Plaza. Known to be a country that mass produces export garments, clothing shops are not hard to find. Shoppers can expect to find clothing for all seasons along with a wide array of shoes and other accessories that would fit any purse. From international to local designer labels, from street vendors in Pettah to air conditioned malls and everything in between, shopping in Colombo will never fail to delight you.
Dining in Colombo is also a delightful occurrence, from street hawkers to fine dining, this capital city has more than its fair share of options. Sri Lankans love their food, and it's no surprise that you can find just about any type of cuisine, made to varied tastes and flavours that will leave you wanting more. Take a pick from Sri Lankan, Chinese, Italian, German, Japanese, Thai, Indian, Vietnamese and so many others when you dine in a Colombo restaurant.
Nightlife in Colombo is also another reason to rejoice, from its myriad of restaurants, local theatre performances, bars and nightclubs. Colombo can be easily traversed from one end to the other in a reasonable period of time, and the nightclubs are usually segregated to areas that are close to the 5 star hotels in Colombo.
For some sight seeing of cultural and historical significance, Colombo is plentiful in colonial architecture, temples, museums and galleries. Bordering the west coast of Sri Lanka, this capital city may not be teeming with skyscrapers or could be referred to as a metropolis, but her demure and pulse is something that is just waiting to be appreciated.
When looking for Colombo hotels, why not try any of the accommodations available from the John Keells Hotels Group?