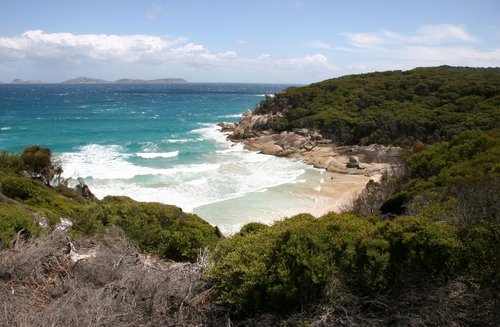 Phillip Island Nature Park is an award winning Conservation Park dedicated to international excellence in ecotourism and mainly nature conservation. Situated on Phillip Island, Victoria in Australia, this self-funding commercial attraction focuses on conserving and enhancing the environment of the Nature Park for present and future generations. It also attempts to keep a balanced environmental, social and economic outcome.
The iconic Penguin Parade, Australia's most famous natural wildlife attraction also takes place at this park, in addition to Churchill Island Heritage Farm, Koala Conservation Centre and the Nobbies Centre. Home to spectacular coastal scenery apart from the unique wildlife, the park contains diverse habitats and environments for a host of fauna and flora including endangered species.
The popular attraction 'the Penguin parade' includes the world's largest little penguin colony. These penguins are considered as not only the smallest but the cutest penguins in the world. With the arrival of dusk every day, over thousand of these penguins emerge from the ocean to march all the way across the beach until they reach sand dune burrows creating a sight that allures many visitors. To experience this amazing natural phenomenon, there is undoubtedly no better place than the Phillip Island Nature Park.
The Nobbies centre is another attraction at the park which presents a showcase of Australian fur seals in addition to the distinct marine life in the country's Southern Oceans. Guests get the chance to have up close and personal encounters with adorable koala bears at the Koala Conservation Centre. Here you can witness wild koala bears in their natural habitat while strolling through the bushland of the conservation centre.
Churchill Island Heritage Farm is another attractive feature of the park, where visitors are taken back in time to relax amidst an interesting environment which includes a café, panoramic water views, lovely gardens, heritage buildings and of course various farm animals such as highland cattle, Clydesdale horses, ducks, sheep peacocks and chickens.