Occupying the tenth slot among China's largest cities, Harbin is a sub provincial city positioned towards Northeast China. Also renowned as the capital of the Heilongjiang Province, this traditional Chinese city plays a vital role in politics, art and culture and the financial system of the North-eastern part of the country.
Nicknamed as 'The Pearl on the swan's neck' due to its shape, Harbin is known by locals as a 'Manchu' which means a place for drying fishing nets. It is also popularly known as 'Ice City' due to its long winter season. Well known for its trade with Russia, the strategically positioned Harbin is recognised also as the fashion capital of China since most contemporary designs arrive here even before Shanghai. Therefore, those visiting this unique city will find a fusion of Chinese and Russian culture.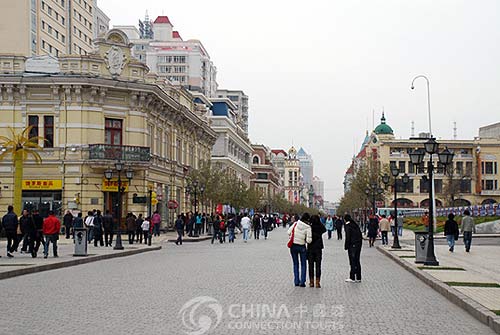 One of the best places to start the expedition of exploring Harbin is the Central Avenue which is a distinctive pedestrian walkway. It features many Russian style clothing stores, cafes and restaurants and is immensely popular among tourists during winter. Away from the town area, visitors will find the fascinating Siberian Tiger Preserve that plays a major role in protecting the endangered Siberian Tiger which is also the world's largest felid. Occupying a total area of 1,440,000 square metres, the park provides shelter to more than 500 pedigree Siberian Tigers.
Those seeking some fun and excitement while in Harbin would find Sun Island Park an obvious choice. Ideal to visit during summer and winter, the Sun Island Park features a science museum, gardens, and forests and during winter the park hosts thrilling ice festivals. Some of the finest saunas, in the country are found here in Harbin. For shopping the Hongbo Shichang, is an unmatched place that sells an all encompassing range of products.
The charming city of Harbin is a perfect place to enjoy a memorable holiday getaway whether its summer or winter. The best way to explore the wonders of this diverse city is to stay at a Harbin luxury hotel. For instance, Shangri-La Hotel, Harbin is an ideal accommodation choice for those who wish to discover the fascinating Harbin attractions while experiencing warm hospitality and professional service.