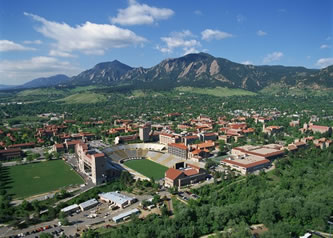 Ideally located in the American heartland amidst snow capped landscapes and towering mountains lays captivating Colorado. Renowned for its high altitudes and picture perfect sceneries, Colorado is fast gaining popularity as a holiday hub that is not limited to skiing. The Centennial State as it's known to locals goes far beyond being a glorified ski resort town to a vibrant vacationing hotspot for the masses.
Famed for its unspoilt natural wonders, Boulder, Colorado offers a wide range of attractions for the discerning traveller. The University of Colorado Museum of Natural History and the stunning Eldorado Canyon are must-see locales in addition to Boulder Falls, Boulder Creek Path and the Leanin' Tree Museum of Western Art. The Boulder County Farmers Market is perfect for those who are looking for some local flavour while the Boulder Dushanbe Teahouse is also worth a visit.
For most of the world, Colorado means one thing, the location of one of the world's most spectacular sights, the Rocky Mountains, and it is justifiably so as nothing dominates the Colorado skyline like this iconic mountain range that is as mysterious as it is breathtaking. Sprawled across a land area of 4800km the Rocky Mountains' highest point Mount Elbert in Colorado is elevated 14,440 feet from sea level. It is believed that the Rockies were formed mainly due to waterways and it is a little known fact that rivers fed by the Rockies supply water to one fourth of America's population.
With ample opportunities to go hiking, trekking and camping it is no wonder that travellers from all over the world flock to witness the splendor of this soaring natural wonder and its national park. The Rockies are at its best during those hot summer months when the Rocky Mountain National Park, Pikes Peak and Yellowstone National Park are in full bloom while the Grand Teton National Park, Royal Gorge and Glacier National Park also offer engaging excursions.
Well-known attractions within the Rocky Mountain National Park include the idyllic 45 mile high-altitude drive along Trail Ridge Road in addition to the hiking trails down Longs Peak. The Forest Canyon Overlook and Copeland Falls are preferred spots among seasoned guests while the Moraine Park Museum and Alpine Visitor Center offers charming trinkets and souvenirs to take home. Other points of interest such as Sprague Lake and the Bear Lake Trailhead are also not to be missed when one is visiting the Rocky Mountain National Park.
For those who are looking for a Boulder hotel close to all the activities the Rocky Mountains have in store, look no further than the Millennium Harvest House Boulder. Conveniently situated, this comfortable rest provides quality service and hospitality that will surpass even your wildest expectations.